Theatre Astorka Korzo ´90, Bratislava, 2006
Author: Thomas Bernhard
Directed by Juraj Nvota
about the production
To come to terms with the past is alive in every period, in every generation. In the past we can very productively demonstrate the present. Thomas Bernhard dedicated a considerable part of his work to such phenomenon. Even though he reacted on the situation in his country, which also experienced fascism, his strong and definite attitudes enabled him to go beyond its borders, and could predict the future – even sixty years after WWII, fascism relapses throughout whole Europe. This is why the controversial story and its introduction on the stage of the Astorka Korzo ´90 Theatre, the theatre with great actor's potential, became the event of the season, and not only from artistic point of view.
Stage designer Jozef Ciller and director Juraj Nvota used the tiny foyer of the theatre for approx. 50 people as the apartment of the play. Therefore, the spectator finds himself as uninvited guest at a very personal family celebration to mark the birthday of the second man of the Third Reich, Heinrich Himmler. Minimal stage, minimum of furniture and props, everything stands on the actors. These three are experienced a great deal as far as the method of psychology analysis of psychically marked people is concerned. They think over every gesture, every look, they create tension by distinctive action, but also meaningful silence and non-activity.
Oleg Dlouhý
"Thomas Bernhard needed in his Before Going into Retirement only three characters. He introduced in them the techniques of manipulation and power, fear and provincial nastiness in the world, which cannot learn from history… Three characters who speak next to each other. In many moments, their monologue would like to be a dialogue, but it is rather music… less of action, more of music… The language creates the dramatic, the language is the tool of power… the production stands on a thorough work of the director with the actors."
(Mária Jenčíková)
"Peter Šimun … managed to create an image of a respected judge and unpractical brother, perverse lover, and cruel Nazi in one character. Also Zuzana Kronerová, as sister Viera, had sparks in her eyes when remembering her brother's glorious past. Her love relationship with her brother was played more thoroughly than the relationship with another family victim – sister Klára, reliant on a wheelchair. Zita Furková was given bigger space for her presentation in the first part… It may sound as cliché, but even today it is courageous to bring such a disturbing theme to light."
(Zuzana Uličianska)
creators
directed by Juraj Nvota
translation: Ján Štrasser, Peter Zajac
dramaturgy: Endrea Domeová
stage design: Jozef Ciller
costume design: Mona Hafsahl
character and cast:
Rudolf Höller, A President Justice and former SS officer: Peter Šimun, Klára, his sister: Zita Furková, Viera, his sister: Zuzana Kronerová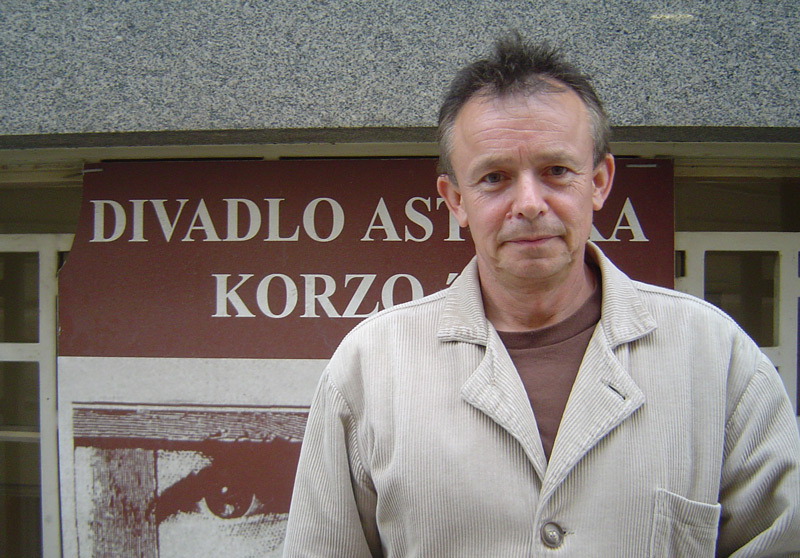 Juraj Nvota (1954)
Belongs to the most distinguished directing personalities in Slovakia. He worked for the Trnava theatre (DPDM), co-operated with the Slovak National Theatre but mostly with the Radošina Naive Theatre. His productions directed in the Czech Republic were also very successful – in Prague's Studio Y and the On the Balustrade Theatre.
From 1992 he has acted as a director in the Astorka Korzo ´90 Theatre where he directed cult productions of plays written by Rudolf Sloboda (Armagedon in Grba, 1993, The Step Mother, Divadelná Nitra 1996). A big success brought his directing of Mother by J. A. Pitínský and plays by Ö. von Horváth Kasimir and Karoline (Divadelná Nitra 1993) and Tales from the Vienna Woods (1999).
The Astorka Korzo ´90 Theatre presented Juraj Nvota´s productions in New York (Armagedon in Grba), Edinburgh (The Cemetery of Elephants), Białystok (Kasimir and Caroline), Cividale del Friuli (Armagedon in Grba).
He also directed a number of TV films and feature film Cruel Joys, he works as a lecturer at the Theatre Faculty of the Academy of Music and Dramatic Arts in Bratislava.
Materials available
Script of the production: SK, EN
If you are interested in these materials, write to archivy@nitrafest.sk