Slovak Chamber Theatre Martin, 2011
Author: Jozef Hollý
Directed by Dodo Gombár
about the production
Kubo, a legendary Slovak play, has been staged twice by the Slovak Chamber Theatre in Martin; both stagings have since become iconic. This ordinary story of a village simpleton who finds himself involved in a love affair and in a labyrinth of neighbourly intrigues over property is indeed a legend in the Slovak theatre. The latest production of Kubo bears the subtitle "remake", suggesting to the informed viewer that the director is making a statement about his own relationship to tradition rather than about the play's subject matter.
In the traditional scheme of comedy staging, Kubo is a funny outsider, a step aside from mental "normality". In this new production, however, Kubo is the meditative, motionless centre of a carousel of ecstatic vulgarity and hysterical stylisation. The surrounding world with its brutality and satiric obsession with alcohol and sex are in a sharp contrast with the quiet meditation of the "God's fool", whose misunderstanding of the world in which he lives and of human relationships is understandable rather than laughable. We laugh at the hectic rate at which the world around us is decaying, at the joyful dementia and idiocy of the characters, at the spectacular stupidity of relationships... while Kubo himself remains there to remind us that what we are laughing at is actually strict morality.
creators
direction and adaptation: Dodo Gombár
dramaturgy: Róbert Mankovecký
set design: Marek Hollý
costumes: Hana Knotková
music: Róbert Mankovecký
characters and cast: Betchela: Marek Geišberg, Betchelova: Lucia Jašková, Lovecký: Dominik Zaprihač, Kosharitchka: Renáta Rundová, Kubo: Dano Heriban, Anička: Nadežda Jelušová, Dora: Jana Oľhová, Paľko: Karol Čičmanec, Captain of hussars Štefan: Viliam Hriadel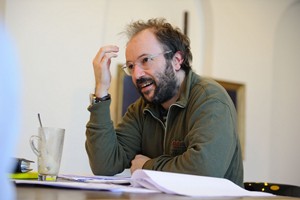 Dodo Gombár (1973) graduated in theatre direction from the Academy of Performing Arts in Bratislava and in 1996 –1997 completed a professional stay at the prestigious drama school The Circle in The Square, Theater School on Broadway in New York. He has done many successful stage productions in Slovakia (Martin, Žilina, Bratislava) and the Czech Republic (Praha, Brno, Ostrava, Zlín), but also in New York, Rome and Budapest. The range of genres which he works with is also very wide: drama, musical, fairy tale, dance, TV shows, advertisement. The viewers at Divadelná Nitra have often seen his plays, starting with his student's work in 1995. He attended the festival five times, his last visit was in 2007 with the play The Sturs (concert called off) by the Slovak Chamber Theatre in Martin.
As a playwright Dodo Gombár was awarded twice in the competition of Alfréd Radok Prize for his texts Hugo Karas and The Third Age. Also his play Between the Sky and the Woman is internationally successful