Andrej Bagar Theatre in Nitra, 2007
Author: Marina Carr
Directed by Michal Vajdička
about the production
We know two Belmont Portias. The classical one from The Merchant of Venice by Shakespeare and today's modern Coughlan by Marina Carr. Both of them cannot identify themselves with the universal places designed for love. They expect from it a lot more. THE SACRIFICE.
Marina Carr does not hide her inspiration by Shakespeare. From the mixture of classical theatre piece and Irish colour she creates the story of destroying passion, violence but also of almost melodramatic love. All the characters around the main heroine are possessed by mystic powers that crush and grind them like the fatal mills. None of them is able to name these powers. Are they in themselves or do they come from the outside? From the reality or another world? Where are the boundaries? Or they all move, as Portia says herself, between various worlds…
The production directed by Michal Vajdička does not tell the story of an alone, misunderstood woman. It rather deals with more in the inability of having healthy communication, unwillingness to listen to the voices of other people living next to us. Or alone. Portia really communicates only with her brother who is fifteen years dead. And so the tragedy of modern man and his inability to attach himself sharpens by the motifs of incest, the karmic debts. As if without them every- thing was easy enough…
The production presents a ghost and visions that ask uncomfortable questions. Can Portia get rid of these visions? What kinds of codes do they bear? Will the deep river attract her to its abyss or will she be saved by the love of an immensely submissive man? The play, balancing on the border between incest and pure love, uncovers also family secrets, fatal attraction and bizarre characters reminding those from Twin Peaks to whom is Portia fatally bound.
Vladislava Fekete
"A pendulous movement between two boundary scenes, on left there is a flat of Portia Coughlan, on right there is a local pub, determinates the horizon of the world of the characters. The main heroine and her neighbours move from one glass to another: day starts at home behind the table or on the sofa, begins in the pub behind the table or just standing. The vertical is though an angelic singing coming from above together with dramatic music while on the ground it is closed by a water element. The river which undermines, brings, kills, but also inspires to love games. Within the poetics the production presents a limited, closed, but also metaphorically voluminous world, the world of a small region and community, specifically Irish but at the same time universal, reaching also general human issues.
The motif of a family is in Euro-American drama writing perhaps the most spread one and it seems that it is inexhaustible. At the beginning of the 18th century the family became a dominant theme of the newly-formed bourgeois drama which profiled itself also as a guaranty and promoter of its values. In the family surroundings, there are, like in a melting pot, prepared new generations, infected by values and kneaded of traditions, but it is also a pot of deep mutual human relationships conflicts, the source of constant traumas of an individual and a generator of dramatic tension. It is simply a theatrical space par excellence.
As far as the plot line is concerned, Marina Carr wrote something like a fancy psycho-thriller which our period likes to consummate, mainly through film industry, but it can, thanks to it, very soon be overdosed by it. The originality of her text is somewhere else, not in this melodramatic, almost shallow story. It is in language, original, metaphorical, colloquial – translator Zuzana Vajdičková cares a lot – and in playing the paradoxes of the new and the old, the signs of traditional country and modern civilization.
As if these two boys – director and dramaturgist – liked the plays from Irish God-forsaken place. They now how to cope with them, how to make saucy theatre out of them. It is maybe because their spirit is closed to rural Ireland, the country which is generally spoken of as very similar to Slovakia."
Soňa Šimková, magazine kød no.1
"Portia Coughlan has in herself something from Chekhov's Ivanov. She has everything and nothing. Money, children, husband – all is surrounding her but does not offer impulses. She´s burnt out."
Mária Jenčíková, daily Pravda, 2007
creators
directed by Michal Vajdička
translation: Zuzana Vajdičková
dramaturgy: Dano Majling
costumes: Jana Hurtigová
set design: Pavol Andraško
music: Peter Mankovecký
characters and cast: Portia Coughlanová: Zuzana Kanócz; Raphael Coughlan: Branislav Matuščin; Marianne Scullyová: Daniela Kuffelová; Sly Scully: Ivan Vojtek; Maggie May Doorleyová: Eva Pavlíková; Senchil Doorley: Peter Oslzlík; Blaize Scullyová: Žofia Martišová; Stacia Doyleová: Zuzana Moravcová; Damus Halion: Milan Ondrík; Fintan Goolan: Martin Nahálka; Gabriel Scully: Ivana Ťažárová / Jana Lacová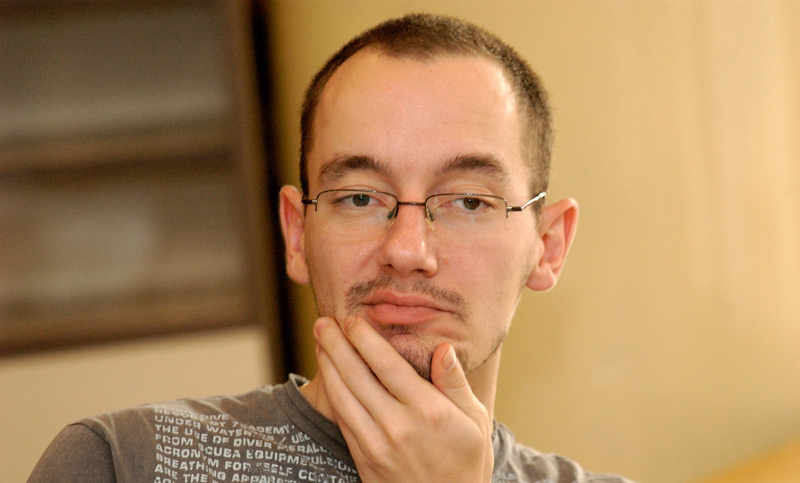 Michal Vajdička (1976) studied theatre directing in 1999 – 2004 at the Drama and Puppetry Faculty of the Academy of Music and Performing Arts (VŠMU) in Bratislava under Peter Mikulík. After graduating he worked as a guest director at the State Theatre in Košice, the Jonáš Záborský Theatre in Prešov, the Jozef Gregor Tajovský Theatre in Zvolen and the Chamber Theatre in Martin. It is for the third time he directed a play of Irish origin after the previous two Irish dramas were widely acclaimed by critics and audience. The production of Martin McDonagh´s play The Lonesome West, directed by Vajdička when at the VŠMU, obtained prizes at many international festivals of theatre schools in Brno and Bratislava. The production of the The Beauty Queen of Leenane (the Divadelná Nitra 2005) by the same author won him three nominations for the Dosky Awards in 2005.