Volksbühne am Rosa-Luxemburg-Platz, Berlin, Germany, 2014
Author: Herbert Fritsch
Directed by Herbert Fritsch
about the production
Since the productions Spanish Fly and Murmel Murmel in Berlins Volksbühne, Ibsens Nora from the Theatre Oberhausen, or Hauptmanns Beaver Coat from the State Theatre Schwerin have enchanted the German audience as well as the critics, their author and director Herbert Fritsch is sometimes jokingly called the oldest debuting theatre director in Germany. Before this man in his sixties has become one of the most sought comedy directors, he captured the interest as a noticeable actor in his own comedy shows, in the productions of Frank Castorf and other great directors, but also as a video-artist. Because of his sharply pointed provocations, part of the audience hated him – which is always a good sign for lover of black humour – but Fritsch was able to playfully irritate even his few devoted fans. He has created his image as enfant terrible, provocateur and iconoclast for whom nothing and nobody is sacred. And most (or least) of all, theatre. The above mentioned productions were created just shortly before the play Untitled Nr. 1, and they had already something typical for Herbert Fritsch – the oscillation between classical texts, the critical view of a bourgeois society, and the authorial productions, almost totally without text but with strong music. On one hand, literary reworked dramas of respected classics, on the other, operettas and other trashy genres. On one hand, productions in big theatres in city centres (Berlin, Hamburg), on the other, creations in providential theatres which many critics never heard about at all. Somewhere between these points, a map of Fritsch´s theatre world can be drawn. Another thing typical for every one of his productions is a precise work with the actor. Thanks to his travels across various places and theatres, Fritsch has put together an ensemble which is able to manifest his idea of theatre. In case he doesn't work with an already given text, his ensemble makes sure that the productions will be full of original comical situations which, thanks to the acting harmony of the group as well as individual brilliancy of the protagonists, will entertain and at the same time chill the audience.
Untitled Nr. 1 is his fourth productions in Berlins Volksbühne in course of the last four years. Just like the ground-breaking Murmel Murmel (Murmur, Murmur), it was also invited to the annual show of the best productions in the German speaking countries, Theatertreffen. Fritsch is one of the most noticeable directors of today and his works atVolksbühne have the original handwriting similar as the productions of many other remarkable creators who repeatedly work or had worked there since Frank Castorf has begun his intendant post in 1992 (Johann Kresnik, Christoph Marthaler, René Pollesch, Christoph Schlingensief and others). If we take away from theatre a story, the words and even a title, what remains is a pure pleasure of play and the so-called own fantasy. In Fritsch's productions, various sources of inspiration can be traced – Chaplin, silent film slapstick, dadaists, surrealists, French pantomime, German expressionism, comic opera, variety shows, happenings and video-art – but he can always transform them into a very peculiar, specific theatre form. As a result, we watch a fountain of theatre fantasy, celebrating as well as ridiculing our mediocrity. Stage gags and situations they work also as messages in the infinite net of artefacts and pieces of our common cultural memory. Thanks to the reference form, the individual situations and stage gags, with each and every explosion of laughter, ask the spectator subversive question: How much of what we can imagine is really a proof of our creative uniqueness and not just shared cultural patterns?
Ján Šimko
"Herbert Fritsch, son of nonsense and the main creator of chaos, descendant of Chaplin, Valentino and vaudeville, has arranged his actors as mechanical bodies. It is all enchantingly constructed, organized and staged: Nonsense? Yes, but surely not silliness. These children of clown shows are definitely not conformists; they are original sexual maniacs and actors led by music and Herbert Fritsch, the worker of theatre miracles."
Berliner Festspiele
"Although H. Fritsch likes to entertain his audience, he doesn't spread good mood. In his productions, something always goes wrong; sheer hopelessness is overplayed with language acrobatics, strange noises, babbling, whispering. Basically, the good old Dada method.
Herbert Fritsch was anarchist already as an excellent actor at Volksbühne. His directors caught him, or, fortunately, not. But there is also a fanatic of order inside of him, even more since he is in the recent years experiencing an unusual carrier of stage director. Fritsch's work is distinguished by strict formal consistency: within the artistically clear limits there is madness raging."
Tagesspiegel
"Fritsch's means of expressive overblown gesticulative play and deformed singing, mechanical walking and twisted looks have found a way to each other and have not remained just on the edge. Even this one, almost two hours long scenic arrangement, is witty. Worshipping of nonsense, glorification of wonderful uselessness of art, and thus the most beautiful proof of its rightful existence. Yet the show is also something more. Man escapes from himself – and then he is caught up again by himself. This is the point of the opera-theatre Untitled Nr. 1."
Neue Zürcher Zeitung
creators
directed by Herbert Fritsch
dramaturgy: Sabrina Zwach
set design: Herbert Fritsch
costumes: Victoria Behr
light design: Torsten König
music: Ingo Günther, Herbert Fritsch
video: Konstantin Hapke
sound: Klaus Dobbrick
cast: Florian Anderer, Matthias Buss, Nora Buzalka, Werner Eng, Patrick Güldenberg, Jonas Hien, Wolfram Koch, Inka Löwendorf, Annika Meier, Ruth Rosenfeld, Axel Wandtke, Hubert Wild, Ingo Günther, Fabrizio Tentoni and Michael Rowalska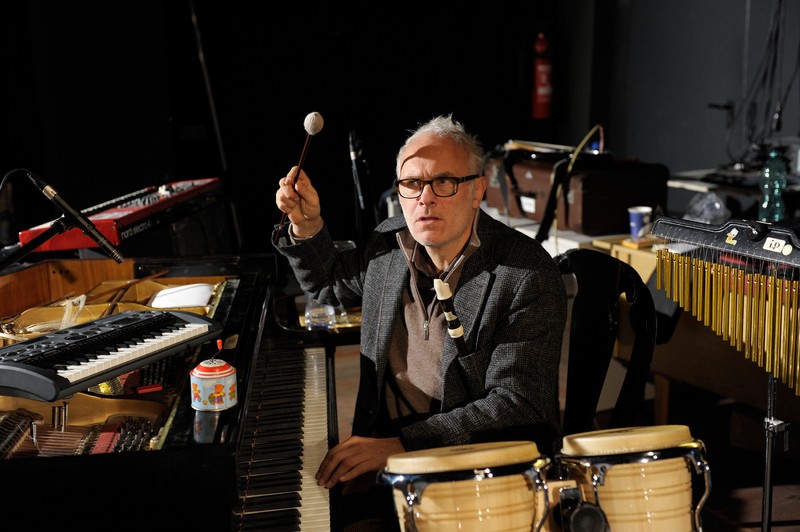 Herbert Fritsch (1951) studied acting at Otto Falckenberg School of the Performing Arts in Munich. Since the beginning of the nineties, he has been a member of the team of actors around Frank Castorf at Volksbühne in Berlin. He was the man with the python in boxer shorts in the play by Frank Castorf The Schöller Boardinghouse. It was he who has invented the Null-Show in the 1980s: theatre without words, without props, but with a stage licked clean with one's own tongue. Herbert Fritsch – the actor of extremes. After an argument with F. Castorf in 2007, he left the theatre and, resentful and seriously ill, worked as a director in various German theatres.
2011 was the year of his triumphant return: at the festival Theatertreffen showed no fewer than two productions, and in the same year he directed at Volksbühne a brutal story The Spanish Fly and the drama Murmur, Murmur. Also these two nonsense and witty theatre productions, for which he made also the stage design, were included among the ten most remarkable productions of the season. In Nitra, Herbert Fritsch will introduce his production for the first   time and as an international premiere.
Materials available
Video of the production: yes
Script of the production: without the text
If you are interested in these materials, write to archivy@nitrafest.sk