Nigel Charnock + Company, United Kingdom, 2003
Authors: Nigel Charnock + Company
Directed by Nigel Charnock
about the production
Frank is about men relating to women – or not, in which Nigel explores his enduring obsession with sexuality and gender. It's called Frank after Nigel's father and because it will be nothing less than "frank" about love, death, sex and the family. (...) A Nigel Charnock solo show is a unique experience; part extreme stand-up comedy, part intense drama, part wonderful dance. A brilliant, engrossing, entertaining balance between careful choreography and wild improvisation that runs the gamut of pleasure and pain.
company's leaflet
In Frank, a fiercely comic, digressive blend of improvised monologue, song and movement, Charnock communicates his sharp, camp wit and wisdom in a spirit of honest self-indulgence. He functions as our mirror, breaking down the barrier between performer and spectator by encouraging us to confront big issues (birth, sex, love, death and the meaning of life and art/entertainment). (...) Having changed his clothes in the centre aisle, he shoves hands, then microphone, down his trousers, then dances and talks more. All the activity exudes a nervy urgency, as if he fears he'll lose us if he slows down. But the core of discipline in his post-modern showbiz sensibility keeps us interested.
Donald Hutera, Times
Charnock is a clever iconoclast who rips up boundaries between words and movement, dance and drama, illusion and reality.
London Evening Standard
Nigel has a real gift for performance, conjuring hilarious damaged characters who reveal themselves in endless virtuoso monologues while his bleached white body twitches and flickers in sympathy...
The Sunday Telegraph
creators
author, choreography and directed by Nigel Charnock
production: Nigel Charnock + Súbor / Nigel Charnock + Company
co-production: Venice Biennale, Dance 4, Yorkshire Dance, Dance & Theatre Cornwall, Arts Council England
cast: Nigel Charnock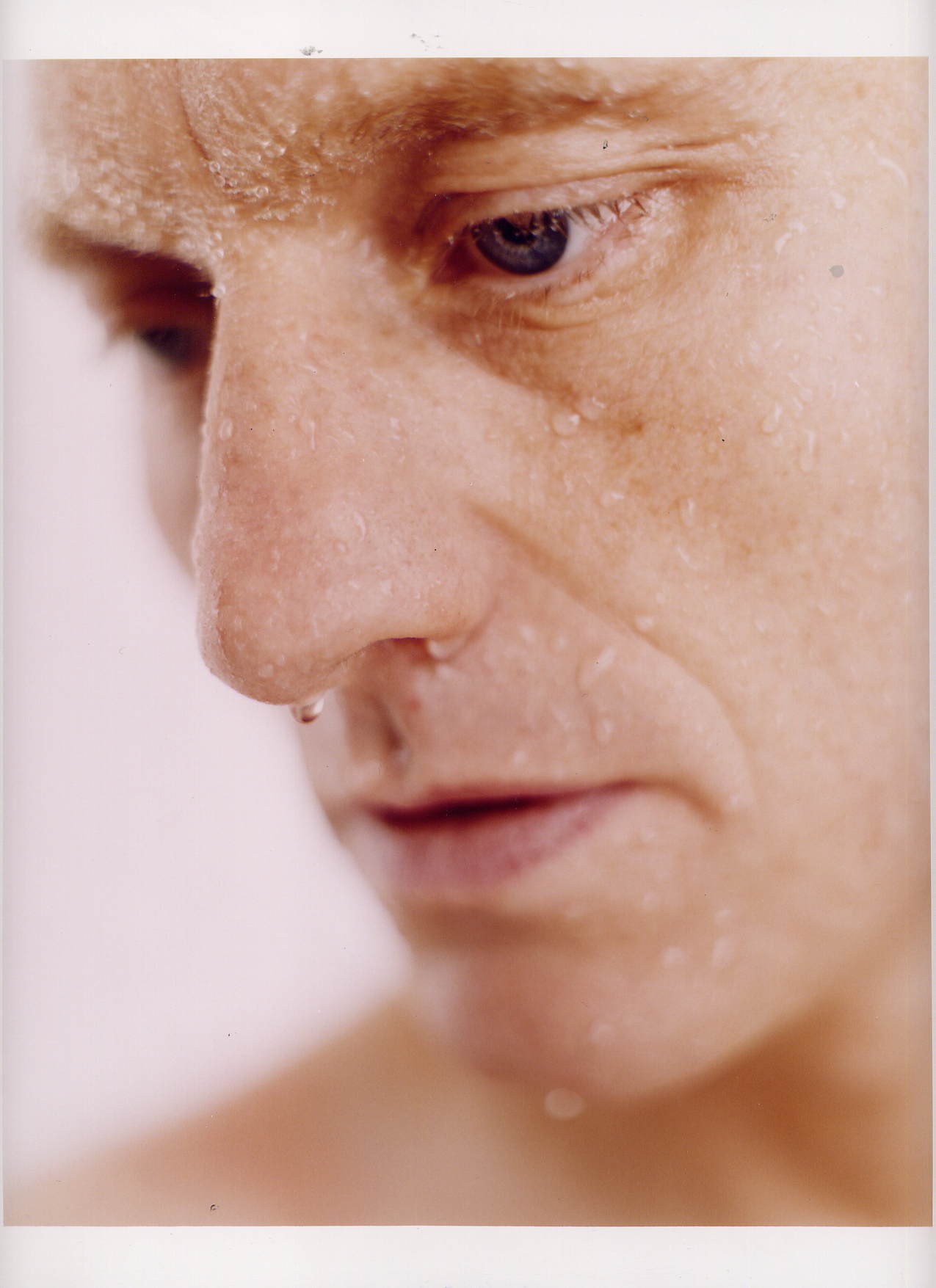 Nigel Charnock (1960)
A founder member of DV8. He is renowned as a maverick and totally captivating performer. After successful collaborations with Lloyd Newson on DV8, Nigel formed his own Company in 1995 with the aim of creating a variety of projects across different media. He is constantly exploring his own hopelessly transgressive take on sin and sexuality – and all his work generates Love-Sex-Death narratives that aggressively confront conformity and explode with morbid humour.
Nigel Charnock is also Artistic Director of Helsinki City Theatre Dance Company. He is regularly involved on leading workshops and training projects for senior students and professionals (Summer School for Accedemia Isola Dansa La Biennale de Venezia; Merseyside Dance Initiative, Liverpool; On-Off Workshop, Berne; Dance 4, Nottingham; Yorkshire Dance Alt Dance Festival; University of California, La Caldera in Barcelona; Carolyn Carlson's Atelier de Paris, PACT Zollverein in Essen. He is continually exploring and developing form and content, working in different media. He has choreographed dance works – in the UK, Portugal, Finland, Germany and elsewhere – made dances especially for film, directed theatre pieces, created an installation performance piece, choreographed for The Pet Shop Boys UK television appearances and international tours, and most recently written & directed Asylum, a raucous and disturbing middle-scale play with songs.