Aisle16, Colchester, United Kingdom, 2005
Author: Luke Wright, Ross Sutherland, Chris Hicks
Directed by Luke Wright, Ross Sutherland, Chris Hicks
about the production
Taking turns to deliver their work, their show takes the form of a series of Powerpoint presentations, accompanied by a spot-on series of thematically appropriate slides, liberally sprinkled with flow pyramids, graphs and slogans. Neatly skewering blue-sky- thinking-outside-the-box style corporate jargon, they riff on everything from reality TV to mobile phone companies to coffee-shop culture. The trio toss out diverting image after diverting image: dead dogs as fashion items, five leaf clovers and three-year-old children as the achievers of tomorrow, as little "mini-winners." This wouldn't work if the threesome weren't as strong performers as they are writers – fortunately this is the case.
Natasha Tripney, www.musicomh.com
Their intelligent, thought-provoking brand of hard-hitting invective is quite clearly satire. Aisle16's show isn't just about making words rhyme or scan well in a sentence. Using a PowerPoint slide show, these young bucks take it in turns to tear strips off the mores of modern corporations, with biting, sometimes surreal, quips all masquerading as instructions at a pyramid sales seminar. It is razor-sharp stuff, both visually and aurally arresting, and not lacking of moments of pure genius.
Metro
In Powerpoint Aisle16 take a switchblade to any pre-conceptions of poetry as a stale and inaccessible art form whilst highlighting the stale inaccessible bullshit of corporate communication. And they'll make you laugh whilst they're doing it. The show was a critical and commercial success at the Fringe, outselling any other poetry show and raising the bar for spoken word in the UK. In July 2004 it was selected by Time Out and Fest as one of the Top 12 Theatre Highlights in their Festival preview. Powerpoint was awarded CRITICS' CHOICE in Time Out: "These hard hitting performance poets hardly need to add visual jokes, but diagrams and flow charts are deployed with deadly effect to stoke up the satire. Compelling viewing for all inside and outside the corporate equation."
Critics' Choice, Time 0ut
This show masquerades as a motivational seminar using the medium of Powerpoint. But beneath the smart suits, ultra-mod Aisle16 are subversive cynics who take the spawn of technology and make it eat itself for our entertainment. They'll explain to you the art of the team email, the need for coffee and steaks in the workplace, and seismic effect of the font you choose on the message you wish convey.
Rachel Boase, Fest
Aisle16
was created for a new breed of British poetry. The Aisle16 style is a mutant hybrid of the highs and lows of modern culture: accessible, acerbic, beautiful and funny. Formed in 2000, they have fast become the most sought after spoken word collective in the UK. Veterans of the Glastonbury Festival, they enjoy top billing at clubs such as Apples and Snakes, Express Excess, Shortfuse and The Poetry Café, as well as a host of literary and music festivals.
creators
directed & performed by: Luke Wright, Ross Sutherland, Chris Hicks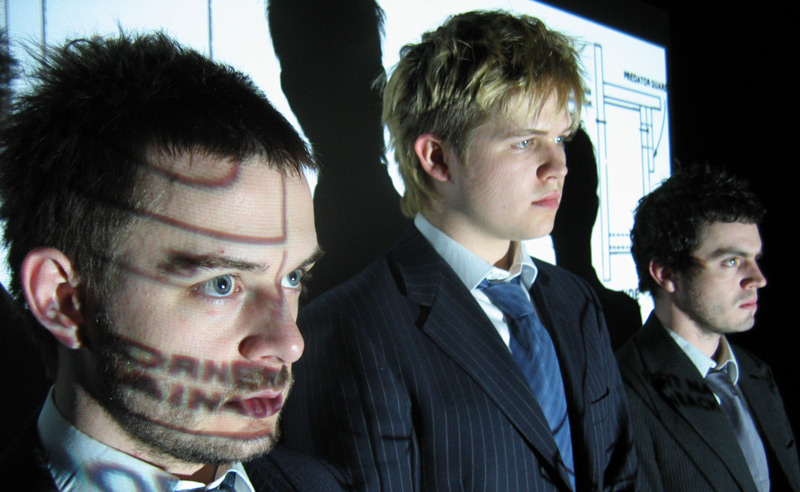 Luke Wright (1982) Not conforming to either British or American performance poetry cliches, his poems are a cut-and-paste extravaganza of mass-meeja, colouring in the monoculture with sarcastic disco lights. A formidable competitor in poetry slams, he is the 2002 Glastonbury Festival Slam Champion. His poems have been featured on BBC. With a combination of witty accessibility and a mean acerbic streak Wright entertains audiences at comedy clubs, music festivals and literary readings.
Ross Sutherland (1979) has been writing and performing poetry for eight years. A regular participator in poetry slams, he has been runner up in the 2003 & 2002 Farrago UK Slam, and also the Big Word Scottish Slam. Ross teaches poetry workshops in Manchester (Loretto College) and HMP Liverpool.
Chris Hicks (1980) "card carrying member of the cynics inquisition", Hicks is a London Slam Champion and Aisle16er since 2003. He combines narrative and big finales at 300 mph. Writing if it needs to be said, from his disgust and awe at nearly everything.
Materials available
Script of the production: SK, EN
If you are interested in these materials, write to archivy@nitrafest.sk